50th Anniversay of The Association
21 June 2023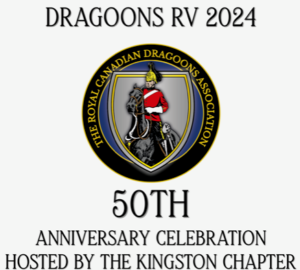 Ladies and Gents
Warning Order, the RCD Association 50th Anniversary Reunion in Kingston is a mere one year away!!
Mark your calendars 14-15-16 June 2024 and we hope everyone can make it.  Many have already asked, why these dates?  As you are well aware, Kingston has may Colleges and Universities and it is the time for convocations.  As well, it's a hit for tourism as the nation's former capital, lots of history and a great nightlife.
The Kingston Chapter has taken this event on and the intent is to really pull out all the stops to make this special.  We have had many colourful personalities over the years and we hope to see you all again.  The intent is to have a good mixture of Dragoons, CS and CSS people – all are welcome.
The selected venue is the Quality Inn Hotel and Conference Center located close to the intersection of the 401 and Division St.  We are now forming sub-committees to ensure we have a well organized weekend to fit your needs.  The hotel has already protected a number of rooms at a reduced rate for this function.  We encourage everyone to order your hotel room early and the hotel has agreed to take your booking starting right away.
To book you reservations please call 613-546-3661 ext. 0 for Quality Inn & Conference Centre or 343-477-0280 ext. 0 for Comfort Suites. Callers must identify themselves as being with Royal Canadian Dragoon Association must call prior to May 15, 2024 in order to qualify for your special rate.  Please see links to hotel websites: https://www.qualitykingston.com/ and https://www.comfortsuiteskingston.com/.
We are in the process of making arrangements with the Regimental Web Site to have the ability to register and pay your for the event online, or you can download a paper copy of the registration form and send it to us. Keep checking here to guarentee your spot
Looking forward to seeing the many faces and personalities of the Regimental Family from across the country.
RV2024 is a go so keep an eye on this page for more updates etc.
Denis Levesque, Kingston Chapter Chair, RCD Association