RCACA Black Hat BBQ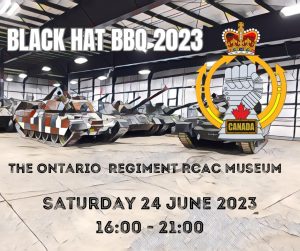 On behalf of the RCACA we would like to invite you to a special Black Hat BBQ hosted at The Ontario Regiment RCAC Museum in Oshawa, ON.
This is a casual event for members of the Corps, serving and retired, and those in the RCAC family to join together for fellowship, a meal and a time together in one of Canada's finest RCAC Museums.
The Museum is open to the public from 12:00 – 16:00 (feel free to come early to enjoy the Museum), but will close for this exclusive RCACA event.
Please purchase tickets for a meal at the link below but admission is FREE for Members of the RCAC and RCACA if you would just like to stop by to say hello.
Dress: Casual
Timings: Event Start – 16:00, Dinner Served – 17:30, Bar closed 20:00, Event ends – 21:00
BAR IS CASH ONLY and FOOD TICKETS SALES END 19 JUNE