Retirement of Major J. Kent Stewart
1. MAJ J. KENT STEWART WILL BE RETIRING FROM THE CANADIAN ARMED FORCES ON 6 DECEMBER 2022 WITH 37 YEARS OF SERVICE.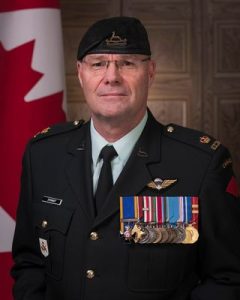 2. HIS REGIMENTAL EMPLOYMENT COVERS A VARIETY OF STAFF AND COMMAND APPOINTMENTS AT TROOP, SQUADRON AND REGIMENTAL LEVEL WITH THE ROYAL CANADIAN DRAGOONS. HE HAS DEPLOYED WITH THE UN AND THE INTERNATIONAL SECURITY ASSISTANCE FORCE. HE HAS BEEN EMPLOYED AT THE ARMOUR SCHOOL AND AT CADTC, HE WAS EVEN THE CO OF THE CADTC FORMATION HQ. MAJOR STEWART RETIRED FROM THE REGULAR ARMY IN SEPTEMBER 2019 AND HAS BEEN SERVING AS A RESERVIST WITH THE ARMY AND THE NAVAL RESERVE SINCE.
3. MAJ STEWART RESIDES IN KINGSTON WITH HIS WIFE LESLIE AND THEIR SON DYLAN. HE ACCEPTED A FULL
-TIME POSITION WITH CALIAN, A CONTRACTING FIRM WHO PROVIDES SERVICES TO THE ARMED FORCES ACROSS CANADA, UPON HIS RETIREMENT FROM THE REGULAR FORCE.  MAJ STEWART AND HIS FAMILY INTEND TO STAY IN KINGSTON WH
ERE HE WILL CONTINUE HIS WORK WITH CALIAN AND WILL STILL BE SEEN FROM TIME TO TIME AT THE ANAF CLUB AND LOCAL LEGION.
4. MAJ STEWART'S DWD WILL TAKE PLACE ON SATURDAY, 14 JANUARY 2023 AT RIDEAU ACRES CAMPGROUND (1014 CUNNINGHAM RD KINGSTON) BEGINNING AT 1300.  THERE IS NO ASSOCIATED COST TO THE EVENT.
5. ATTENDANCE, ANECDOTES, AND CONTRIBUTIONS TO A GIFT FUND MAY BE SENT TO SLT ASIA BROWNLEE AS THE RETIREMENT FUNCTION COORDINATOR AT ASIA.BROWNLEE (AT) FORCES.GC.CA OR 613-583-2934.