The Guild has been doing a massive amount work to provide support across The Regimental Family with the generous support of our past donors. Until now, we only mentioned those who donate funds in the Dragoon Magazine and on our website, but have acknowledged that we did not have an enduring venue to recognize our supporters more officially.
Moving forward, we believe this permanent recognition is important and appropriate to demonstrate that support comes from many sources inside and outside the Regiment Family. This effort is effective 1 April 2022 but other efforts will continue to recognize past donors
The Wall of Recognition has been created not only as a fundraiser, but also to permanently recognize supporters who further the work of the Guild. To be eligible for the Wall of recognition, make a one-time donation of $300.00 or more to Guild anytime after 1 April 2022 by clicking here or at the "Step 1 box" below, and putting in the notes box "Wall of Recognition" – this will help identify you for the Wall project. Your donation will still be considered a "General Donation" and you will receive a tax receipt. Once completed Step 1, return to this page and you can provide your details for your plaque engraving by clicking the link in the "Step 2 box" below.
The wall will be located inside the new RCD building (Y137) near the unit gymnasium at Garrison Petawawa. The new wall will hold plaques on a rail system surrounding the Guild logo and Regimental Starburst carved out of wood and has expansion capability. An example graphic is below (not to scale)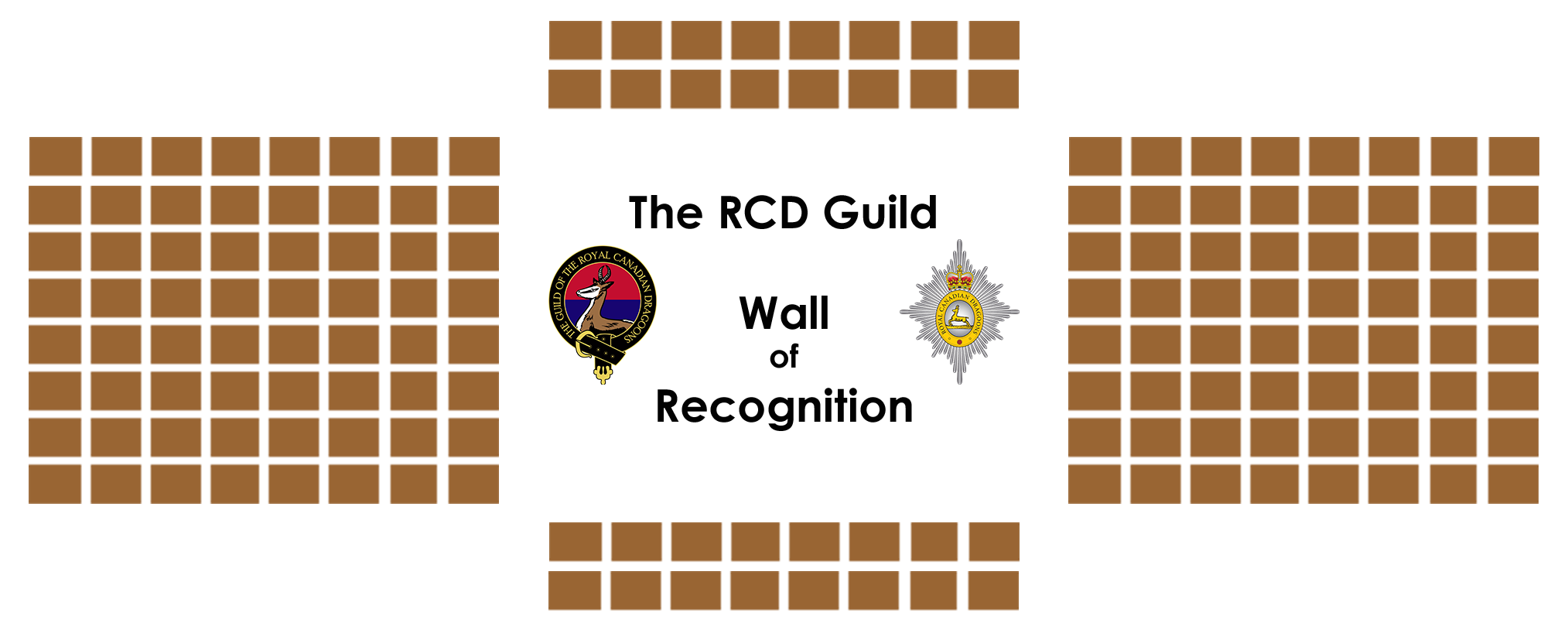 Each plaque will include with a Springbok, a Starburst and the word "Dragoons". Donors can then add their rank, name and post-nominals (MCPL Denis Reis, MSM, CD; or Mr Davey Batter), or their family (The family of Sgt John Springbok, CD) on the first line.
One more line is also available if you want to put a note, saying or dedication to personalize the plaque but is entirely optional. For example, it can be to name of an "in honour of" Dragoon family member, your period of service, a dedication to a particular event or group, or your company name. You can put as little or as much as you want to make the plaque your own.
Please note that all statements will be reviewed - profanity or language going against the spirit of Regimental Family unity and pride will not be accepted. When your plaque is ready, it will be mounted on the wall and a photo will be sent to you with our sincerest thanks for your support.
Ready to order?
CELEBRATE your support !!